Since around November I've been slowly getting rid of things. I know I made a post earlier this month on the 5th about letting go of people, but I've been applying the same kind of mentality to other areas of my life as well. Not that we have been living in filth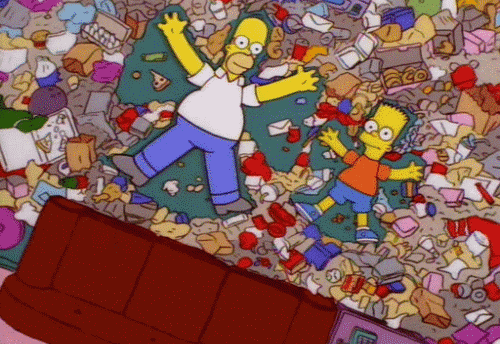 but we've wound up with a sort of clutter. This morning I took 3 large trash bags plus a few books my used book store wont take, in to Goodwill. 3 bags! Old toys from my childhood that would be better put to use with someone else's kid, than in a bin in a closet. Clothes Tyler didn't want anymore. Necklaces, a scarf, random kitchen things that haven't been used in years. Gone.
Funnily enough, the apartment still looks about the same. Some places you can tell look a little lighter and some drawers aren't as cluttered… but I'll take it. AND I've given some of my childhood stuff to 2 of my co-workers who are pregnant. Got rid of some holiday stuff around November… It's been good! I feel lighter. I still have the urge to get rid of more stuff, but I haven't really come across anything that I'm ready to let go of. And that's fine. I'll just have to be mindful and re-asses every once in a while. Seriously though, what's the point of keeping things if they're never going to see the light of day? But of course since I've been going through things, I re-organized a little, dusted, sprayed a little smell-goods, and opened some windows….
Maybe all this is why I don't "clean" very often. lol.
In this mood of mine, I was trying to find this article from Tricycle, and it took forever, but I think I found it. But looks like one has to pay to be able to see all their old stuff, which I haven't yet. Still thinking about it.
http://www.tricycle.com/trackless-path/freedom-and-choice
But in the process of looking for that I did find a couple things that I think work just as well.
I really liked how this TEDtalk started:
And I signed up for biweekly emails from this website to help remind me to keep the things down to a minimum:
7 Common Problems Solved By Owning Less
"We removed clothes, furniture, decorations, cookware, tools, books, toys, plus anything else we could find in our home that was not immediately useful or beautiful."
A lot of what that website says is pretty much the baseline for why I wanted to get rid of things. It was nice to be able to read it written cohesively what I was thinking.